I own a business, how can I deal with snow and ice?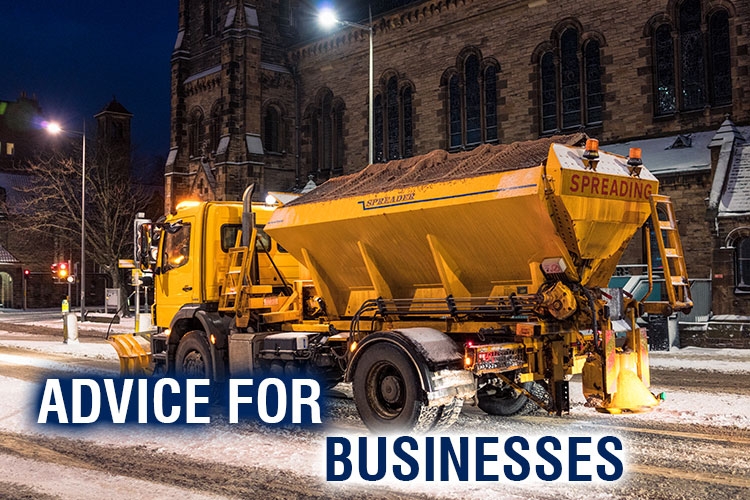 Private companies have a legal obligation to ensure that the areas around their premises are kept safe and as clear from snow and ice as possible, ensuring car parks, pavements, paths and entrances to buildings are kept clear. It is essential that a company has a winter policy and gritting schedule in place to ensure that work is carried out when the weather takes a turn for the worse. Any accidents that happen during snow and icy conditions on company premises due to trips and falls on ice can leave a business liable to a legal claim by the injured person/s.
Health and Safety regulations advise that under no circumstances must individuals or businesses take it upon themselves to clear snow and ice from public roads and highways. This is due to the risk of accidents and other problems that could occur because of the work carried out. For example; the movement of snow during clearance going on to create problems in another area. Again, this can lead to legal claims for any injury caused.
At Reece Safety we have a wide selection of products available to help companies keep the areas around their premises well maintained and safe during the winter months. All companies should ensure that a grit bin or multiple grit bins are placed in strategic positions on their premises. The size and amount of bins and their positioning will be determined by the size of the premises and the features in the area around the outside of the building. It is advisable for companies with larger premises that experience a high volume of foot and vehicle traffic to carry out a risk assessment to determine these factors.
As safety specialists, we are one of the only providers to have all our winter products in stock and ready to ship the next working day. These include or range of Grit Bins, Winter Salt and Winter Packs.
Each grit bin should be fully stocked with rock salt. There are various types of rock salt and de-icers available, from conventional brown rock salt, commonly known as grit, to white rock salt and liquid de-icers.
Making good use of grit bins, rock salt and a salt spreader will take the hard work out of treating larger areas such as car parks and access roads. Rock salt is placed in to a hopper on the spreader and then when the spreader is pushed forward, a mechanism beneath the hopper will spread the rock salt evenly over the area being treated.
Our cost-effective Winter Packs offer the perfect solution for both small and large businesses, schools and hospitals and contain everything you need to keep areas safe and clear of snow and ice.

As winter approaches councils throughout the UK are preparing for temperatures to drop and the weather to turn.
According to law every council in the UK has an obligation to ensure that safe passage on a public highway is not endangered by snow and ice and that any delays caused by adverse weather conditions are kept to a minimum.
Councils work to meet the requirements of this legislation by ensuring that roads within their jurisdiction are treated with rock salt. They also provide large numbers of grit bins throughout their boroughs to make sure that the public have access to rock salt stocks, often placing them in strategic positions along roads and in public places.
The weather in the UK is unpredictable and our councils provide an exceptional service when conditions are challenging. Each council issues a Winter Services Policy detailing their plans and preparations, however, with the introduction of new legislation referring to the winter safety obligations of private companies the demand for winter products has increased.
If you are a council, school or hospital in need of large volume of rock salt, why not call us on 01422 310506 and speak to us about our winter salt pallets?