Clearing ice and snow at home and work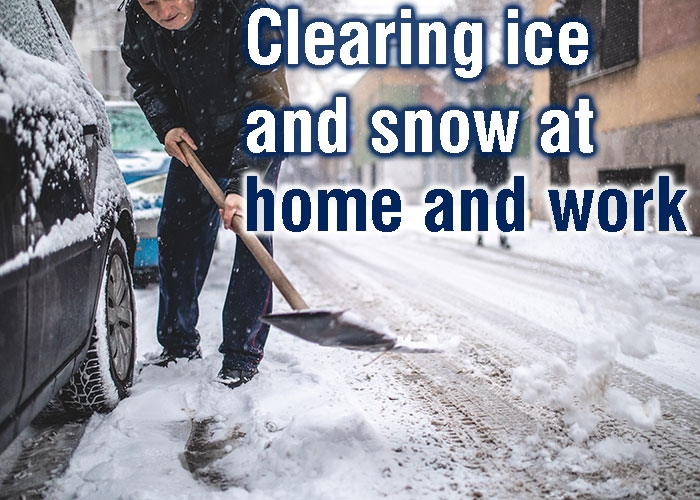 The law doesn't stop you clearing snow and ice on the pavement outside your home or from public spaces. It's unlikely you'll be sued or held legally responsible for any injuries on a path if you have cleared it carefully.
Slips, trips and falls are the most common type of accident in life generally and are obviously more of a common occurrence when conditions are icy.
On business premises, there is a duty to take reasonable care to ensure the safety of those using your land whether they be customers, visitors or employees.
In public areas such as the pavement outside a shop, business or service, shopkeepers and business owners should show community spirit and make every effort to make the access to their premises safer and easier by clearing snow and ice.
When open, they are inviting people to visit them and therefore should ensure that they have played their part in making this visit as safe as possible by clearing the entrance and exit, pavements and car parks.
Whether you're an individual helping your community or a site manager clearing a car park, when clearing snow and ice, there are a few key points to remember:
Shovel away the bulk of the snow

Sweep away the rest

Do not use water to clear away snow and ice – boiling water can refreeze quickly leaving an icy patch

Keep on top of the area you have cleared – react to changing weather conditions. This could mean that you must tackle the same area more than once to keep the path or car park clear

Use grit to make icy surfaces less slippery and prevent more ice building up

Spread grit in a thin, even layer
The Gov.uk website has more helpful advice about clearing snow and ice. Members of the public must also remember that it is unrealistic to expect every stretch of pavement to be cleared and that they should also take reasonable care to avoid slipping or falling.
To get advice on how you can take the necessary precautions to stay safe, read our article 'How to avoid slips, trips and falls'.
Do you own a business? Or do you simply want to clear your drive? Why not check out our affordable Winter Packs? Here you can find everything you need to keep your home and business hazard free.